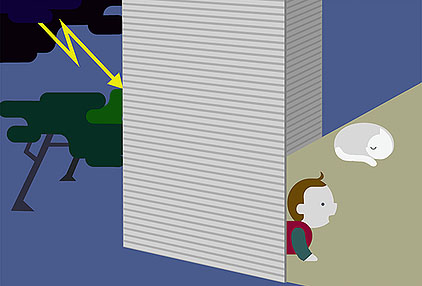 Fear of thunderstorms is a primal fear
Most children are afraid of thunderstorms – but a child should feel safe at home.
Children should experience a cosy feeling of security in their parents' house. Because a child can only develop creatively and in a healthy way out of security.
In fact, fear of thunderstorms is considered a primal fear. Even without having had negative experiences, children can fear. These innate fears have protected us from danger since the dawn of mankind.
The potential danger of thunderstorms, when lightning and sound from roller shutters lose both the visible and audible horror, has hardly any negative influence on their children.
When other window protection is endangered during storms and storms, the roller shutter can continue to provide protection and security – because it does not have to be pulled up in wind or storm.